Here's hoping for a mild start to spring. Detroit's March came in like a roaring lion (appropriate, considering our pro football team's name), bringing more cold and snow.
Monday, February 24 -- The kids fell right back into the swing of school. Having spent the last week avoiding spending too much time outdoors, Mike and Landon shivered their way to school. Landon channeled his inner Edmund Hillary/Tenzing Norgay as he ascended the giant ice mounds on the way home.
He's holding a clear sheet of ice we pried up from the sidewalk. Pretty nuts!
He is also doing well at practicing his writing skills. Landon puts those writing skills to use by writing us notes and drawing pictures to go with.
We talked about using kind words for Family Home Evening. This lesson will have to be repeated over and over again, we suspect.
Tuesday, February. 25 -- After school Eliza met up with Mom at a voting party. There was a vote for a technology bond in Grosse Pointe, and a mom in the area had party. We were all invited. The bond vote failed, but that's a subject for another post.
Hanging out with Rocco and some yummy goodies
Eliza went to her Pipsqueak PE class, and there were so many kids in her class they will have to split the class. Eliza participated more than she has in previous weeks and had fun seeing friends from other activities.
Mike's program area coordinator let him know that the university promotion and tenure committee would review his case on March 25. Pins and needles for another four weeks.
Wednesday, February 26 -- The weather has been cold enough during the day that we have not walked to school as often and Landon has not gone out for recess. Mike and Hallie had rainy day schedules, but so many days without recess boggles the mind. Little wonder that the boy has bounced off the walls all winter. Hallie headed to the airport in the evening to pick up a family that had spent time in Cancun, Mexico.
Thursday, February 27 -- Eliza did not have school today so spent time at home. We did some shopping at Sam's Club where both children found a need to release energy. Landon showed off his math and writing skills, and Eliza channeled her inner JLo/Rizzo as she danced up a storm tonight.
She thought she should sleep in her baby doll's canopy bed. Fergus, who uses the bed as his own private space, was not amused and let her know it.
Friday, February 28 -- Mike received an encouraging phone call from the dean at Cal Lutheran, but he has not (yet) been offered a job. Fingers crossed for some sort of positive resolution regarding either this job or tenure. As Gene Wilder's Willy Wonka said, "The suspense is terrible." Unlike Mr. Wonka, however, we do
not
hope it'll last.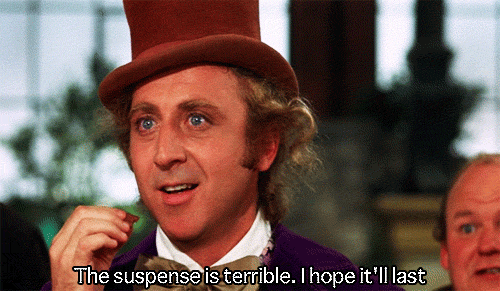 Hi, Shad!
We ended our evening with our weekly pizza and a movie. Hallie chose The Fox and the Hound.

Saturday, March 1 -- St. David's Day started with no daffodils or leeks anywhere in sight. Landon spent his last day in Boys Advanced gymnastics before starting Boys Pre-team. He is very excited to move forward in gymnastics. Hallie starts her liquid diet in preparation for her surgery on Monday. This is a brave move, and we will do our best to support her. It means she will not be able to eat many foods she loves, so we indulged a little today, making poutine and having Coldstone in the evening. Mike and Hallie have been taking a money management course and spent some time working on it after the kids went to bed.

Sunday, March 2 -- The snow that started last night left us three new inches this morning. We had stake conference, but were able to watch it via Internet feed at our local building. The stake's theme for the year is Doctrine and Covenants 38:24-27, "Be one." Tonight the Sister Missionaries are coming for dinner and having a lesson where we will present them with our Family Mission Plan. Hallie also once again is making two never before made recipes. This dinner will be good!