The phrases in the title translate as Happy Easter (Christ is Risen) and Happy Birthday (Many Summers) in Ukranian. We has a busy week taking advantage of the warmer spring weather. Mike celebrated his birthday with some Michigan favorites. Here are a few highlights.
Monday, April 7 – Hallie took the sister missionaries to the Henry Ford museum.
Tuesday, April 8 – Hallie and Eliza went with friends to have some free play time at Extreme Gymnastics before going to Pipsqueak PE.
Doing the power walk!
Basic materials needed: a kistka, beeswax, a candle, and ideas for designs
Many colors of aniline dye at the ready
Mike's finished product
It would take a long time for him to get close to this good!
Wednesday, April 9 – Here are pictures of some of the art the kids did in school this last week: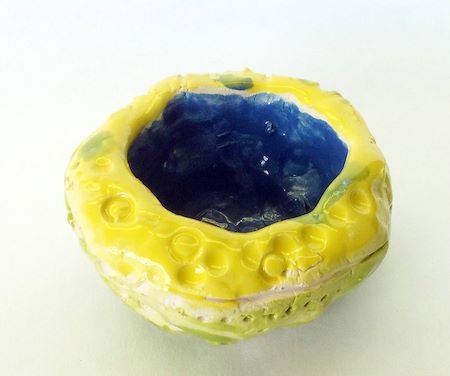 Landon's pinch pot or jelly bean bowl
Eliza's class project based on Harold and the Purple Crayon
Now that we are getting more sun, the kids are getting outside more. Fergus is jealous. And persistent. We have to take extreme measures to get him to stay indoors. Fortunately, Eliza seems to have the magic capacity to keep him from getting too far when he does break out.
Thursday, April 10 – Somehow Mike managed to get Eliza's hair to come out full of ringlets from her last bath. She has had lots of fun hairstyles this week, including these little buns.
The sister missionaries came over in the evening to help pack up and itemize and pack material in the dining room and kitchen to get them pristine for spring.
Friday, April 11 – Hallie and Landon had a mother-son date watching the NCAA Men's Gymnastics Championships at the University of Michigan's Crisler Arena.
Saturday, April 12 – While Hallie and Landon went to gymnastics, Mike and Eliza did a little work around the yard.
The kids struggled to get their rooms clean, so we missed out on an afternoon movie. Maybe next week. We celebrated Mike's birthday with dinner at Achatz Burgers in St. Clair Shores and dessert at Sanders Ice Cream Parlor in the Village.
Sunday, April 13 – More birthday celebrations and otherwise just enjoying time as a family. While we didn't get the sun in the afternoon, we had warm spring breezes in spite of the clouds.
Landon's birthday greeting