I ride the bus to and from work most days, and in the afternoons or evenings as I ride home, my bus passes the
Museum of Contemporary Art Detroit
. On the outside of this graffiti clad concrete and stucco building on Woodward is posted a message in large white neon letters: "
EVERYTHING IS GOING TO BE ALRIGHT
." When I first paid attention to the sign as I first started riding home from class last winter, a few months after Alison had died and as we were still struggling to get accustomed to this new place, new job, new house, new baby, new calling as branch president, and the new hole in my heart where Alison lived, I took comfort in this simple message: the overwhelming load I was bearing would pass. Someone else held out hope (even in irony) that things would be OK. That bright message floating in the air told me night by night that, in spite of the difficulties, in spite of the grit and hurt and pain, someone else held true to the hope that things would work out. And things did get better, for me at least. Landon has learned (mostly) to sleep through the night, I have begun to learn my duties at work and church, and my grief has begun to wane. Eventually, I stopped paying so much attention to the sign as the summer sun waited for me to get home before it set.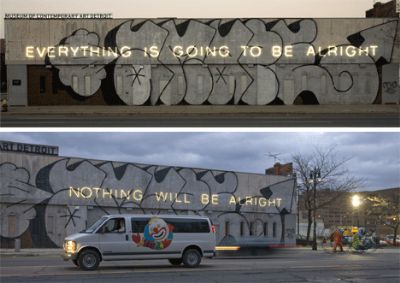 An evolving neon sign installation outside The Museum of Contemporary Art Detroit (MOCAD), which opened in 2006 in a formerly abandoned 22,000-sq-ft automobile dealership – a great model of adaptive reuse reflecting Detroit's industrial past and its hoped-for rebirth. Artists: Martin Creed/ Sislej Xhafa.
Now fall is here, and it gets dark early again. About a month ago, I began seeing the sign again. At sunset on a rainy evening, it had changed.
"When did it change?"
I asked myself.
"Did it change? Nah."
But, paying attention the next night, sure enough, I saw that a few letters of the sign had changed, altering the message from "
Every
thing is going to be alright" to "
No
thing will be alright." The change in wording, though small, haunts me. I want to ask the sign maker, "What happened? Why the change?" I want to tell the sign maker, "My friend, everything will be all right. We'll get through this thing that prompted you to change your sign, we really will." To the Museum of Contemporary Art: Thank you for giving me a message of hope during a dark time when I was new to a strange city. Here was art with impact. I want to return the favor and bear the message. I will pass the good word along and tell YOU, gentle reader, that everything will be all right, whatever your situation. I don't know how or when, but things will work out. (Follow this
link
to a story about the change.)
On to another topic—After looking at the blogs of my friends, acquaintances, and random strangers, I think I may have discovered the utility and the risk of a blog: we reveal our hearts to each other when we share our thoughts, whatever our motivation for doing so. For many of us, a blog is a journal we use to seek public confirmation of our private worldview. For others, it's a sounding board, a soap box, or a stage. It's as if by writing the thoughts of our hearts and sharing them, other people might read what we say and actually agree with us (or at least not get too offended), validating our beliefs. Then the odd critical comment comes in, and our bubble bursts and we feel tempted to withdraw back to the safety of the paper journal. For those people still too new or naïve to blogging to have been hurt by having a blog post come back to haunt you or for those brave enough to keep writing in spite of (or because of) the reactions you get, I salute you.